The original World Trade Center model from 1964 (all towers are connected)
Reworking the model for updates
Completed
Restoration, 2003
2023
New Yok | WTC (cancelled)
This was the first design for the construction of the WTC from 1959.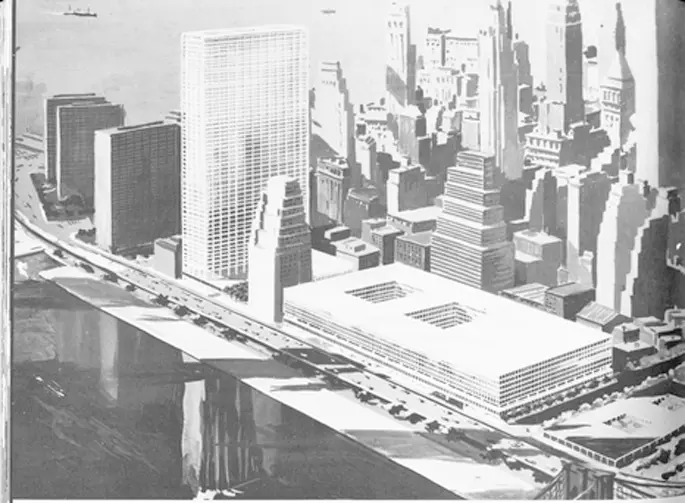 1959 rendering of East Side World Trade Center below Brooklyn Bridge.
The three buildings that stand to the south of it were part of the plan to relocate the Stock Exchange.

or 1969
North tower antenna construction, first broadcast was made on December 19, 1978. The shot above might be earlier in the year
One Commerce Square finishing construction, May 1987. You can see the diamond on top is not completely clad yet, along with One Liberty Place just weeks away from topping out
Bell Atlantic Tower heavily under construction not long before topping out, February 1989
Are the former designs for the New WTC old enough for this thread? Found some renderings of its previous iterations on the Web Archive of wtc.com and thought they made for a neat comparison, in addition to one I made:

First rendering by Studio Libeskind; second by Gaspar Giroud Pichot; last photo by Pierre Blaché
It says wind turbine spire on the last image. Not sure why it was cut though, could be many different plausible reasons.
Interestingly, it was briefly considered in a design study for 5WTC to be above the PATH station rather than at 130 Liberty (if only just to rule it out as an option):


Source: https://web.archive.org/web/20031121124027/http://www.renewnyc.com/plan_des_dev/refined_slideshow/slide01.asp
The Philadelphia Inquirer
Digital Hagley-J. Victor Dallin Aerial Survey collection (Accession 1970.200)
The Drake finishing construction mid 1929. First beam placed September 8, 1928, and the building opened September 30, 1929. It was supposed to open June 1, and at the end of 1928 it was expected to cost 2,100,000 but it ended up being 5,000,000. Keep in mind a major event in 1929, but the tower was still deemed successful
Market Street East Master Plan-BLT Architects
I love this building. Thank you.

Me as well! I had to do research on it, since there's barely information out there. But I was digging DEEP last night, I even found the architect of my high-school (Charles R. Peddle). Another fact about the buildings is many people confuse this tower as the one next to Central Park in Ghostbusters. But that was just a practical model
https://theasc.com/articles/visual-effects-for-ghostbusters
It was filmed at 55 Central Park West. The model was just used for the Marshmallow man scenes lol.