Height - 25m / 82ft
Floors - 8
Space - 350 residential units
Use - Residential
Architects - Maber
Developer - Cassidy Group Property Ltd
Plans for a new PRS scheme have been put forward by Cassidy Group Property, for a new build of 350 units to be built upon the former Hicking Pentecost site as designed by Maber architects.
Tinted windows and dark metallic frames will blend in with the black brick forming strong vertical lines wrapped in a white brick clad frame. A crown is defined by the use of setbacks and colours whilst the facade is broken up using similar techniques. Overall, provide a great contrast with the neighbouring Hicking Building, whilst carrying over the quality in a new light.
The scheme will include town houses with front patches of land on the lower floors facing Summer Leys Lane and Crocus street whilst apartments will be stacked above with entrances dotted around. Roof terraces are also created within the roofs setbacks for the penthouses and upper floors.
106 parking spaces along with 112 bicycle slots will house the ground floor towards the rear, with open spaces for residents sitting on top of this acting as a podium. Opening out onto the open spaced podium are personal gardens for residents on the 2nd spilling out onto the said podium; making further use of outdoor space where possible.
The minute Tinkers Lean river will be open to public as per the creation of a footpath to the north of the site running east to west. The podiums open space will sit one flood above this creating a multi-layered section, whilst still giving residents privacy.
This cleverly designed building will add much needed density to the area, filling a current void of life. The proposed builds relies on quality materials and strong lines within a relatively simple but solid form, moulded to the grid street layout, whilst using the buildings assets, such as exterior apartment gardens, to their advantage. Let the expansion of the southside continue with such quality and density, providing a strong grid street pattern.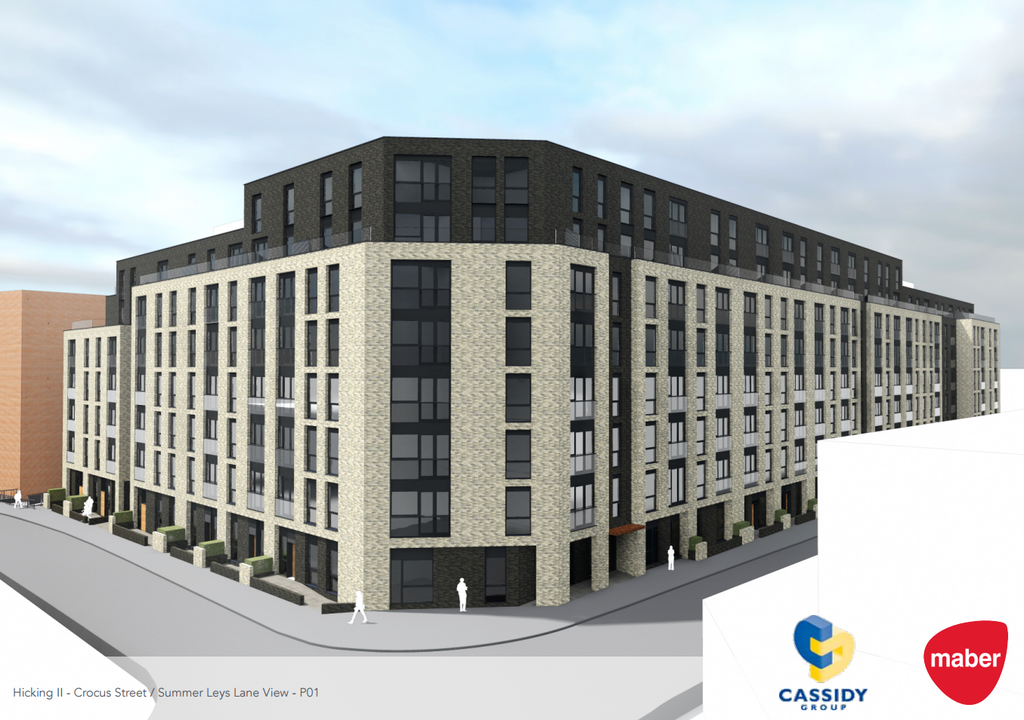 ##The Site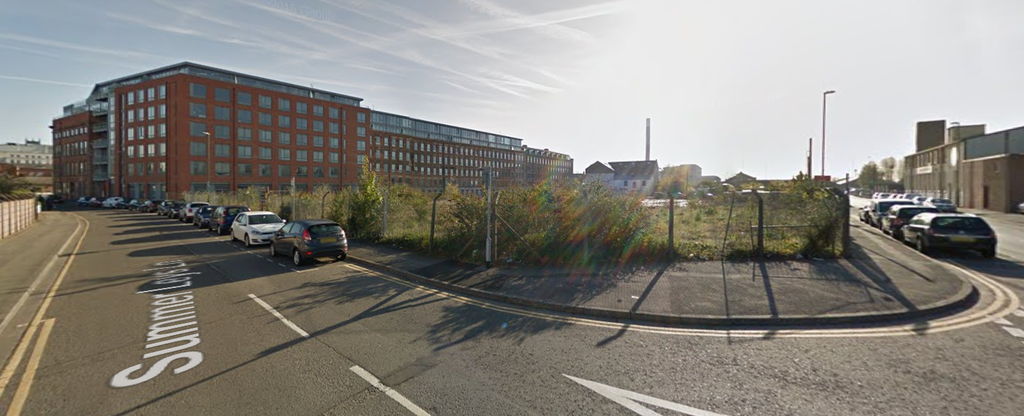 ##Renders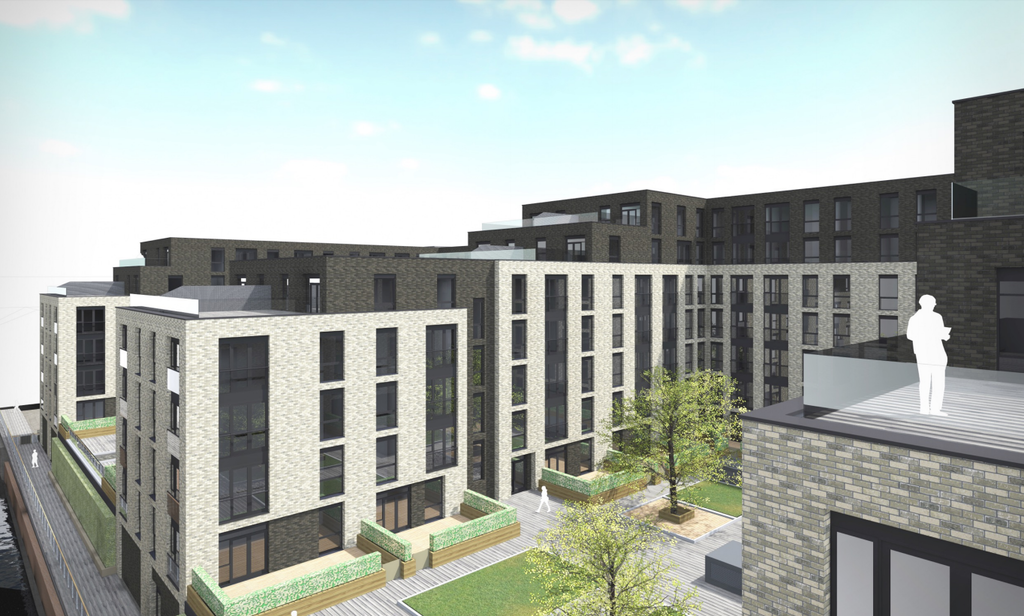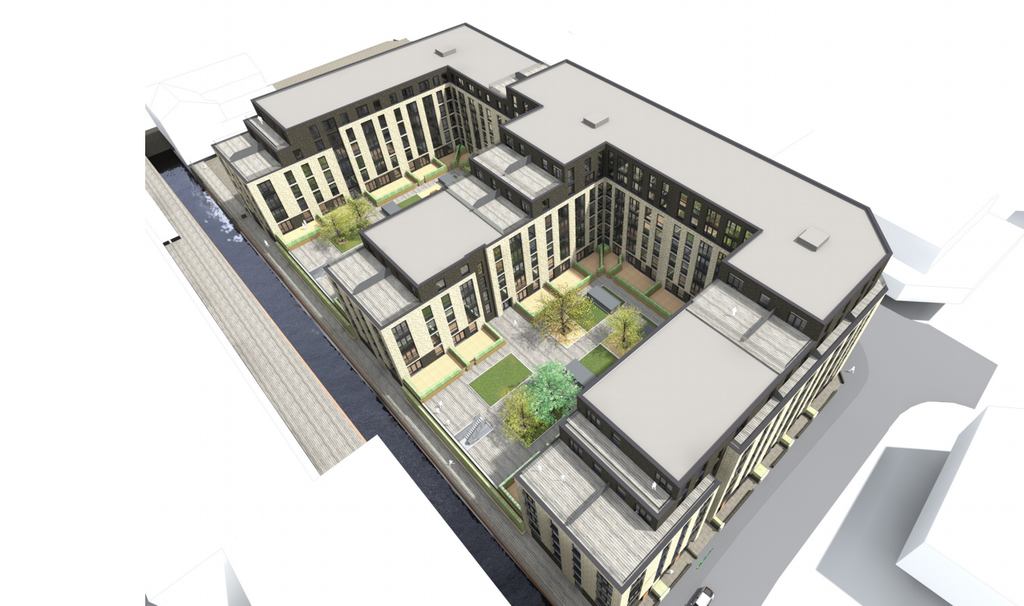 ##Massing Diagrams

##Interactive Development Map
You can view as to where the development is on my Nottingham Interactive Development Map: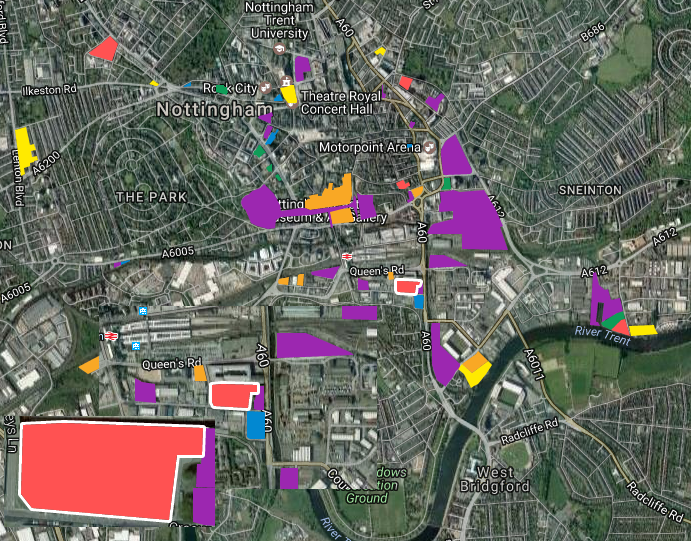 ##View Point