Renderings: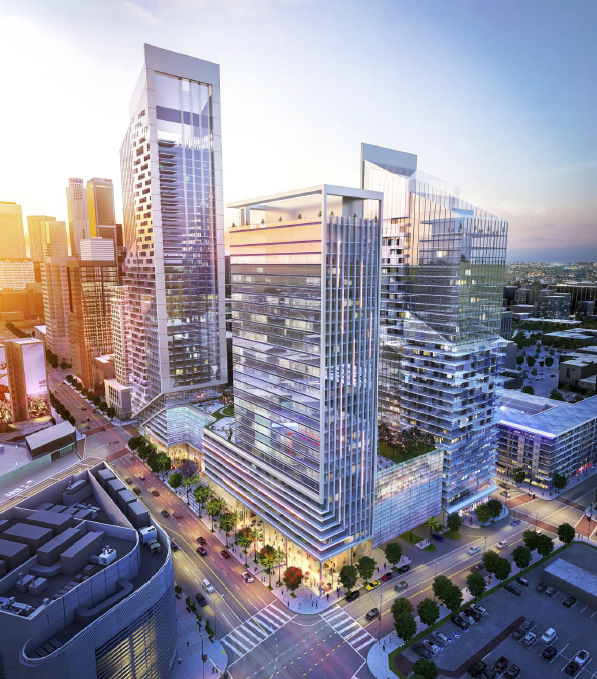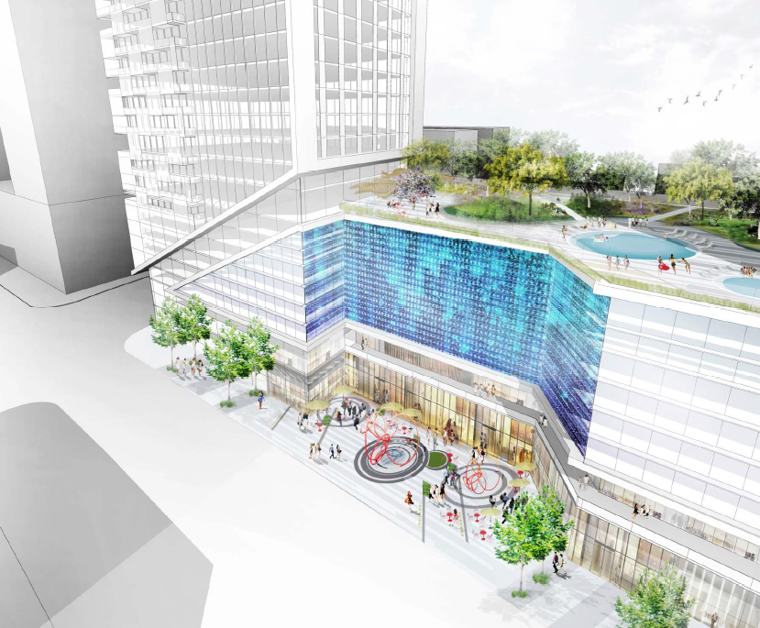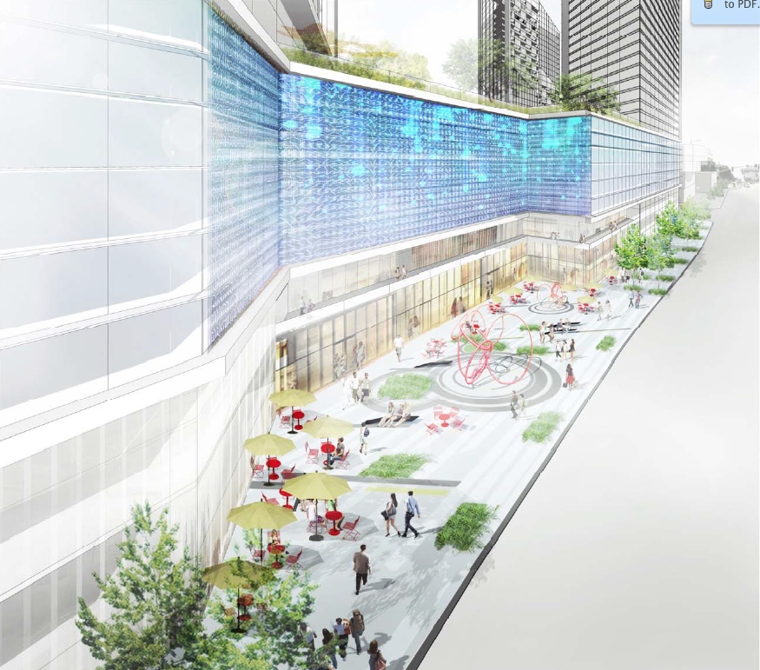 Chinese Developer Reveals Plans for South Park Mega-Project
In the past 14 months, Chinese developers Greenland and Oceanwide have embarked on multi-tower mega-developments that will change the face of South Park. The movement isn't done: They are being joined by another Chinese company that aims to radically transform the block just east of L.A. Live.
Shenzhen Hazens Real Estate Group, which last August spent $105 million to acquire the Luxe City Center hotel at Figueroa Street and Olympic Boulevard and an adjacent parking lot, has revealed plans to build three high-rises on the site.
The first phase of the project would create a 30-story hotel, with 250 rooms, at the northwest corner of 11th and Flower streets, as well as a 30-story condominium tower at the northeast corner of 11th and Figueroa streets. A second phase would demolish the Luxe hotel and raise a 42- condominium tower. There would be 650 condos in total.
The development would also have 80,000 square feet of retail on two floors, with much of it fronting Figueroa Street.
The $700 million project represents Hazens' first ground-up development in the United States. The company broke into local market with a purchase of the 802-room Sheraton hotel at Los Angeles International Airport in December 2013.
Founded in 1993, Hazens is known for numerous major projects in Shenzhen, China. The company sees Downtown Los Angeles as its entryway into the U.S. market, said Sonnet Hui, executive project director for Hazens, during a recent briefing on the development.
Hui said Hazens was drawn to Downtown in part because of the opportunity to create a large "landmark" development in the city's urban core, something not possible in many other major U.S. cities. It didn't hurt that Hazens Chairman Fuer Yuan is personally intrigued by the city's culture and diversity, and enjoys visiting Downtown.
"Our chairman is a big fan of the NBA — the Lakers, the Clippers. So he comes to Staples [Center] often when he is in town, and he sees big crowds here," Hazens General Manager Greg Sun said. "When we did our research, we saw an opportunity to do something big in a gateway city."
Hazens is in the entitlement process, which should take 12-14 months, according to Jerry Neuman, a land-use attorney with the firm Liner who is working on the project. The development, which is as yet unnamed, would break ground in 2017, with construction of the first phase taking about 24-28 months. That would lead to first-phase completion by early 2020, and the second phase would begin immediately after that, Neuman said.
Initial renderings from architecture firm Gensler show sparkling, angular towers with sleek lines and broad swaths of glass. The towers are connected by an eight-story podium with parking and outdoor amenities, such as green space and pools. Additional amenities would be built on the towers' rooftops.
A large public plaza along Figueroa Street would draw pedestrians into the main retail entrance. The company intends to attract upscale and boutique retailers, as well as restaurants, Hui said.
"Chinese people love shopping. So one of the first things you hear from visitors is, 'Oh, I want to go to Downtown to shop.' But we tell them, there's not really shopping in Downtown right now," Sun said with a laugh. "In Asia, most retail is in the city center."
It is unclear who will operate the 30-story hotel. Hazens signed a five-year contract with Luxe in August, but officials declined to comment on whether Luxe would run the new property. In general, Hazens is aiming to secure a "five-star" luxury hotel brand, Hui said.